O'Neill Industrial Corporation has developed a two sided facing for acoustic blankets designed to reduce noise in boat engine compartment and ship engine room by tuning a high frequency absorption side and a low frequency side of the blanket.

These custom made blankets are designed as noise absorbing hull baffles and noise transmission loss bulkhead and ceiling blankets.

Both composites and baffle products are safe, durable, and non-corrosive; and are low flame and smoke rated. The unique feature is waterproof fiberglass used in these blankets and baffles.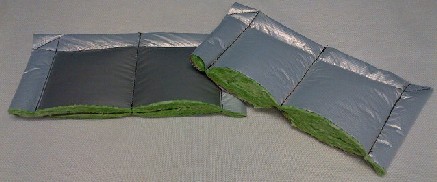 PART NUMBER: GW508TF -
2" thick waterproof fiber glassfaced one side with a yarn-reinforced fireretardant
Tedlar and the other side with 1 ½ mil thick aluminized vinyl coated fiberglass cloth.
PART NUMBER: GW254-454NR-GW254TF -
1" thick waterproof fiberglass faced one side with a yarnF reinforced fire retardant Tedlar; 1lb/sqft loaded vinyl noise barrier; and 1" thick waterproof fiberglass faced with 1 ½ mil thick aluminized vinyl coated fiberglass cloth.

COPYRIGHT 2014 O'NEILL INDUSTRIAL CORPORATION
NOTE: All date about the products listed in this brochure are based upon tests conducted with specific materials, installed as stated, and tested with conventional instruments under ambient conditions. This information, therefore, may be considered as being indicative of representative properties and characteristics performance obtainable. However, since environmental and/or installation conditions vary, we make no warranty, express or implied, concerning use of these products, nor do we accept responsibility for any misapplication of these products.