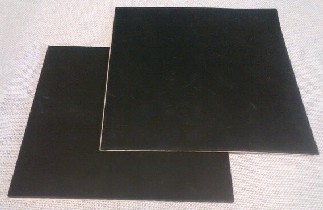 V-10-PSA is a free-layer high mass damping sheet that weighs 1lb/ft. V-10-PSA is designed to reduce peak natural frequencies of
steel panels up to 12GA and is supplied with peel and stick backing. Sheet size is 48" x 54" or special cut parts.
V-20-PSA is a free layer damping sheet constructed of high mass loaded vinyl that weighs 2lbs/fT. V-20-PSA is designed to damp thick plate steel up to 3/16" thick reducing structural noise radiating into air borne noise. The material has a pressure sensitive adhesive backing for ease of installationon clean panels. This product can be cut with steel rule and a utility knife. Sheetsize is 48" x 54". Special lengths or parts can be supplied.

Dynamic Properties (steel ball impact on 16 gauge steel, 3.5" x 6.5'; radiated air borne noise reduction.) 16.5 dBA noise reduction.
V-10-PSA

COPYRIGHT 2014 O'NEILL INDUSTRIAL CORPORATION
NOTE: All date about the products listed in this brochure are based upon tests conducted with specific materials, installed as stated, and tested with conventional instruments under ambient conditions. This information, therefore, may be considered as being indicative of representative properties and characteristics performance obtainable. However, since environmental and/or installation conditions vary, we make no warranty, express or implied, concerning use of these products, nor do we accept responsibility for any misapplication of these products.